I discovered a fantastic blog tonite! And, the author has a wonderful way of getting to now her fellow bloggers. Meet me on Monday! Sort of a blog hop if you will!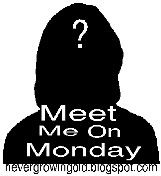 Questions:
1. Do your pants get hung on a hangar or folded?
1. My pants get hung! I never have enough space in my drawers for all of my pants!
2. If you are stranded on an Island, what 3 things would you need to have with you (not including humans or electronic devices)?
2. 3 things I would have to have.....my dog
Roscoe
, my fan (to sleep with), and my scrapbooking supplies!
3. Where is the farthest you have ever traveled to?
3. The furthest place for me I guess would have to be Montreal, Quebec Canada. Would love to travel the world someday!
4. Do you live in a house, trailer or apartment, etc.?
4. I live in a small house in Indianapolis as of this moment. I share this small space with my wonderful husband, our Great Dane Roscoe and 3 rotten cats. We are in the process of moving to Lawrenceburg Indiana in the next week. We are moving into a 3 bedroom 2 bath home there. Ahhhh to have 2 baths again!!!! :)
5. What is your most hated household chore?
5. I hate doing laundry!!!! I guess I don't mind so much the loading of the machines, but then you have to fold it and put it up! NOT my cup of tea :)
Have a Blessed day/night,